Nail Services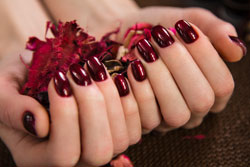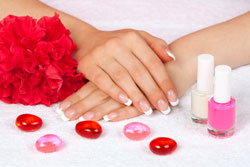 SNS (Organic) Manicure
$40
Full Set Of SNS (Organic)
$50
Full Set Of UV liquid Gel
$50
Full Set Of Pink and White
$50
Gel Polish with Service Extra
$10

Manicures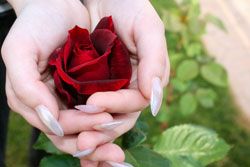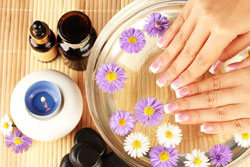 Signature Manicure
$19
A relaxing manicure that includes all the benefts of the express manicure plus relaxing hand massage and hot towel wrap.
Organic Exfoliating Manicure
$22
A warm gentle sugar scrub is massaged to exfoliate your skin, and reveaing smooth and rediant hands. Includes nail trimming and shaping, cuticle detailing, and polish of your choice.
Deluxe Manicure
$27
Your hands deserve to be pampred by us. Te basic manicure plus a Baobad Body Butter for the supple, sofer, smoother, and more tone looking skin. Also included is a dip of warm, deep moiturizing parafn wax. Recommended for extra dry hands

Pedicures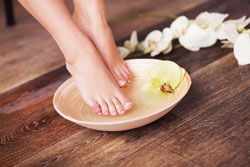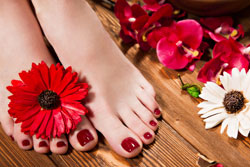 Spa Pedicure (35 minutes)
$39
A great pedicure for those suffering from poor circulation, arthritis paint, or just tired feet. Nails are cleaned, shaped, buffered and polished, with cuticles trimmed, followed by callus remove exfoliation on the the heels and balls of the ffet. A sugar scrub is applied to exappliated any rough skins on the heels and balls of of your feet.
Deluxe Pedicure (45minutes)
$49
Deluxe pedicure is all about you. dip your feet in Herbal Mineral Bath before your nails are strimmed and shaped, cuticle are detailed. Next, exfoliate with liquid body Lufra and revitalize the legs with Icedancer Gel plus essential oil, wrapped in hot towels. Ten, lastly, restore skin with sole solution treatment and moisturisze with Baobad Butter. Give your feet a break -warm, scented parafn to relax and revive them, and to sofen the skin.
Exotic Hot Stone Pedicure (55minutes)
$59
The crown jewel of pedicures, your technician will leave your nails cleaned, shape, buffered, and polished, with your cuticles trimmed. Ten, we will apply a sugar scrub exfoliation on the heels and balls of the feet. Prepare for heaven with a eucalyptus- based mud mask up to the knees coupled with hot stone foot massage. Your technician then performs a foot massage with warm, smooth basalt stones and botanicals oil to melt away stiffness and tension. Feet are the wrapped in hot towels, culminating with polishing of toenails.
Gentlemen Pedicure (45minutes)
$49
The ultimate pampering the the gentlemen. Get an overhaul for your feet with our deep clean pedicure designed for men. Special callus eliminator and Liquid Body Lufra is used to exfoliate away dead skin cells and banish dry, rough skin. Sweet dream!
Ultimate Exotic Essential Oils Pedicure (60 minutes)
$70
The Royal Pedicure uses NU SKIN products to bring your pedicure experience to a shole new experience! Sit back and relax as we perform an excender leg massage, followed by wrapping your legs in a hot towel. futher, finger pressure techniques using Firewalker Cream will take away all of the tiredness Marine Mud effectivelly removes dead cells and impurities, and we finish with the ultimate soft Baobab body butter and hot stone massage with essential oils.

Little Angels (10 years old or under)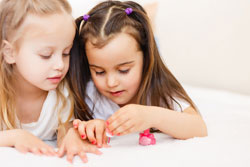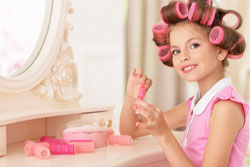 Manicure (2 nails design)
$15
Pedicure (2 toes design)
$25

SNS Dipping Powder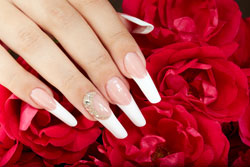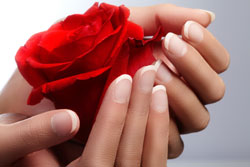 Out Of The Ordinary
Not Gel - Not Acrylic
- Odor Free
- Healthy for your nails with added vitamin E &
Calcium
- No liquid or UV light needed
- Light weight and durable
- Looks and feels natural
SNS Organic Manicure with extension
$50
SNS French with extension
$60

Additional Services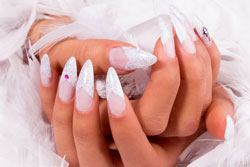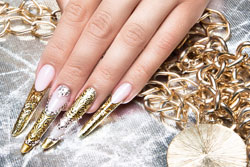 Essential oil
$15 (French Extra $5)
French Polish Change Hand
$5 (Extra)
French Polish Change Feet
$20
Professional Callus Treatment
$5
Polish Change on Hand
$12 (French Extra $5)
Polish Change on Feet
$15
Acrylic Nail Take-off
$10

Facial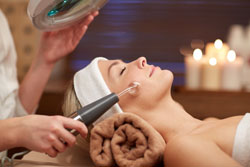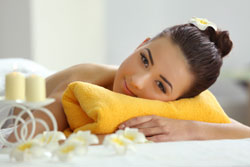 Refesing Facial (30 minutes)
$30
Simply fabuluos! Bi-weekly treatment. Provides gentle exfoliation and revive dry skin.
Refesing Mask (30 minutes)
$30
Simply perfect! Bi-weekly treatmen. Provides gentle ecfoliation and deduce excess oil production. Leaving skin sofer and smoother.
Face Lift Facial (35 minutes)
$50
Insantly Spactacular! Instantly lefs and tightens the skin to give you a smoother, tighter, youthful look.
AgeLOC Facial (45 minutes)
$50
AgeLOC is a proprietary blend that targets aging at its source. Te result-skin that immediately feels refreshed, hydrated incredibly sof & clean.
Deluxe Facial (60 minutes)
$70
A combination of our AgeLoc Facial and Refreshh Facial. It include new AgeLoc ingredient blend that helps slow the sign of ageing at their source.
Ultimate Exotic Ageloc Facial (70 minutes)
$110
Works immediately to lift, firm and stone your skin while reducing the appeatiance of lines and whikles, leave undefired skin in the past and enjoy finer, younger looking skin today and in the future, with ageLoc Tru Face Essence Ultra follows by relaxing shoulder massage and hand massage Sweet Dream!

Waxing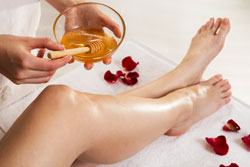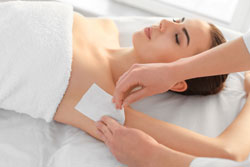 Complimentary Drinks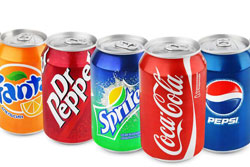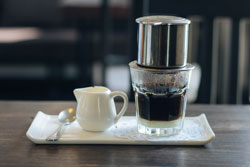 Jasmine
Tea Coke
Water
Hot coffee
Green Tea
Orange Juice

Bridal Parties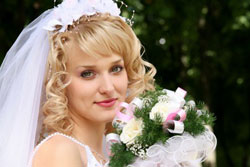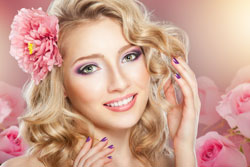 If you book a party and have 6 or more people that receive manicre and pedicure, all your group will receive 10% off the whole services.

Private Parties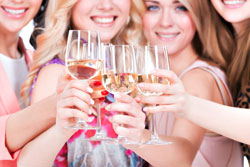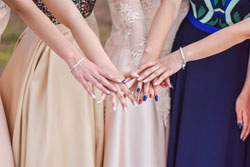 Exotic Nails & Spa is the perfect place to spend time together with friends. Relax and receive services together. We are able to accommodate groups of all size. We have a Kid Spa Room to host birthday parties for all the beautiful girls out there.